Interview with founder of QTURN agency, Tasha Del Perico
Tasha Del Percio is the founder of QTURN agency in Bern, Switzerland.  Even though she runs a full time business, she's made it a part of her lifestyle to volunteer and give back to her community and all over the world! We got to speak with her about all the work she's doing and how everyone can make a difference!

Where are you from/where did you grow up?
Tasha: I was born in Italy, but I grew up in Berne, Switzerland.
What were you like as a kid?
Tasha:  I loved to help other kids! I really liked to play hospital, and I was always trying to be the nurse to other kids, helping them up when they fell. I also loved ice cream! Ice cream was definitely one of my favorite things as a child!
What was your family like?
Tasha: I have two sisters, and we did spend a lot of time together as a family. We used to spend time outdoors, skiing in the winter and swimming in the lake in the summer. On Sundays, we would go to the mountains and have a picnic. My parents had come to Switzerland from Italy, so our extended family wasn't close by.
Tell us about your work.
Tasha: I started my company, QTURN, in 2006. We started out as an advertising agency, but found out that we were excelling in creating icons, signage, and way finding systems. We create the signs that help you find what you need or show you where to go in  airports or train stations, where people from all over the world are trying to navigate.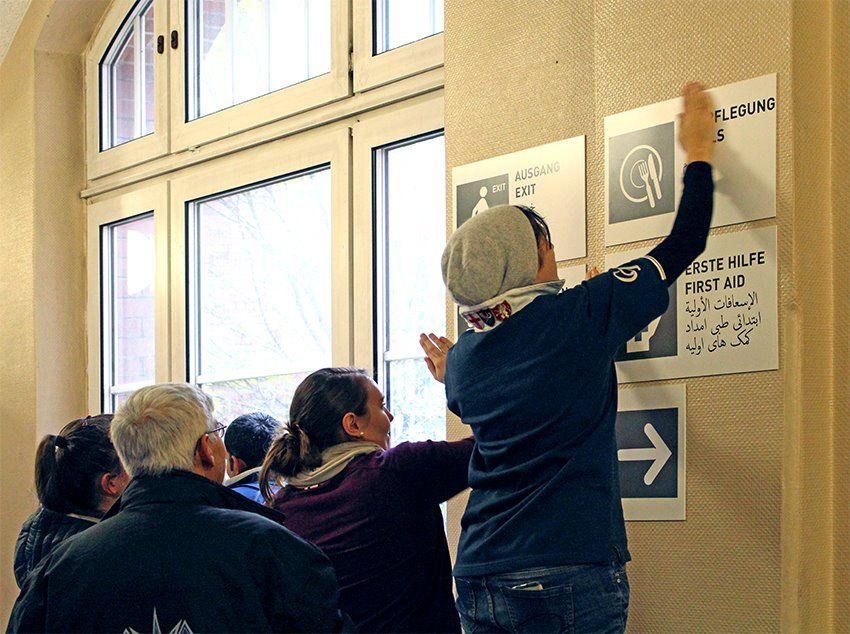 Is it part of your work to give back?
Tasha: As a team, we had an amazing opportunity last year. We had planned to take our team of twelve to the Milan Expo. It was a big exposition to bring business and different countries together to address world issues. Our team was going primarily to see the signs they used and to see what worked, what didn't. I t was really a research trip for us.
The more we worked on our plans for the trip, the cost really seemed crazy. I just kept thinking that there must be a better way to spend these funds and our time. So I reached out to one of the largest refugee camp operators in Germany. They run, for example, the Tempelhof airport in Berlin where they were housing over 7,000 refugees at the time.
We told them we had twelve people that could come for a few days, and just asked them what they might need help with. We offered to distribute food, clothing, water, really anything they could think of we were willing to do. Then they asked us about our work, and what our agency does everyday. It turned out that they had a huge need for universal signage at on of their facilities (where we could start a pilot project for all of the camps)! Since lots of time was being spent showing people around and helping them get from point A to B.
Our team was able to go to one of their camps, in an old school building, and create all of the different signs they needed! We even got to plan out special signage for the kids. We used animals in place of standard symbols to help kids find their respective sleeping and living areas. This was by far the best opportunity we've had as a team to give back!
How have you made giving back/volunteering part of your lifestyle? 
Tasha: I try to be very involved in the community here! I've been so lucky in my own life; I just really feel I have to do something to give back. So I started a foundatoin in 2008 for mothers and families that need help here in Bern and we do a lot of fundraising. I'm also part of a group called JCI, a group of young entrepreneurs working on various social projects and I do a lot of work with them, as well as Kiwanis and Rotary.
Tell us about any project you've been working on lately.
Tasha: I worked together with Rotary International on a really cool initiative in Rabat, Morocco. We learned that lots of children living in remote areas weren't going to school on a regular basis. Their commute by foot was just too far and their families found it more beneficial for them to stay home and help with family work, mostly in farming. Since most kids spent around three hours a day commuting to and from school, families felt this time was better spent working. 
The team on the ground in Rabat thought bicycles might be a great solution to help them get to school, but they didn't have the funding. I worked as part of the team to do fundraising here in Switzerland to have 350 bikes sent to this area near Rabat. I also worked with the school and local government there to get the addresses of the kids needing bikes. 
We also found a local mechanic to assemble each bicycle. This was an important way for us to support the local economy and ensure someone locally had the tools and knowledge to maintain the bikes over time. Then we had to work out a deal with the school and the families to endure kids that were given bikes were actually using them to come to school and that their families were allowing them to make the trip each day, since commute time was cut in half. 
We're excited that this project seems to have gone really well over the past year and the school is asking us to help them replicate the program this year in another area!
Any projects a little closer to home that you're excited about?
Tasha: We're working on a joint venture with another group right now in Bern. We have a large population of refugee families that are trying to get settled here and so many of these families have young children. We're teaming up with the local scouts programs to try and create activities for these kids. Scouts are really big here, and children spend a lot of time outside, hiking, camping, you know.
We're working to invite these kids that are new to the area to participate in some of these activities each week. There are some challenging language barriers, but we're trying to work with the parents so everyone feels comfortable. The kids have an opportunity to make local friends and get introduced to some of our foods and local culture in a really friendly and unintimidating environment. This is taking time and isn't without it's challenges, but we want these kids and families to feel like they can grow roots and be part of the community here.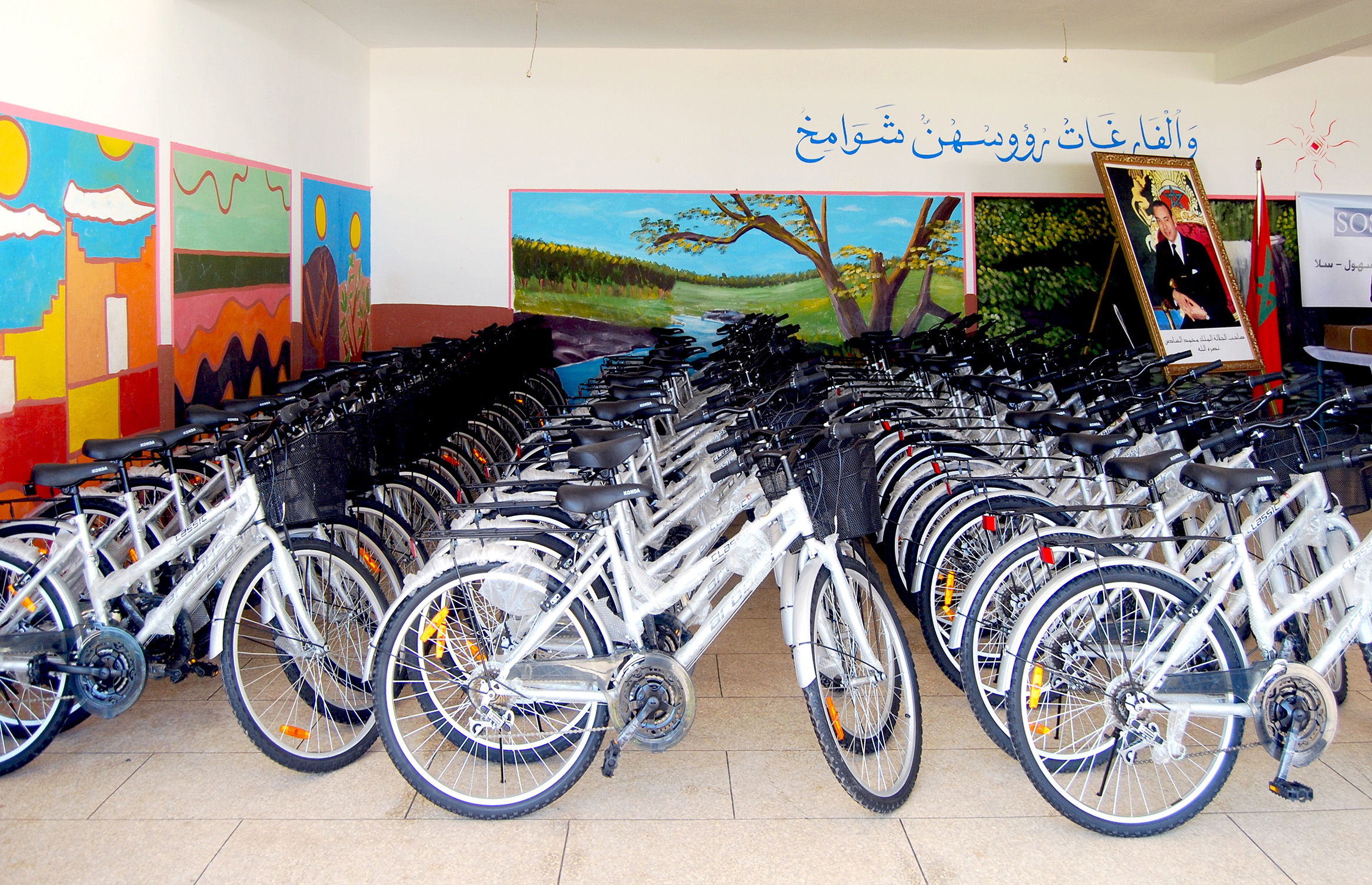 cu
Do you currently work with any causes that are really close to your heart?
Tasha: People feel they're too small to create impact, but it's not true. We can always find ways to create impact. If you have an idea, don't be afraid  to bring it to other people. You will always be able to find others that are looking for opportunities to do good who are willing to join you. Or, just be open to hearing the ideas of others so you can help together with them. The acts of every single person are really important. Reminding people of our strength, collectively and individually, is what I'm really passionate about.
How do you know about HALF UNITED?
Tasha: There is a local shop here, called Change Maker, and I bought a "Fighting Hunger" necklace there. After reading your story card, I had to find out more about you!
What are some of your upcoming plans? Anything that you're really excited about?
Tasha: I'm excited to work on replicating the bicycle project in another area of Morocco. We're so thrilled that the program is working and that there is opportunity to serve another group of kids. Other than that, I'm looking forward to the next project! I'm looking all over, globally, right now for the next opportunity to help!
Ok, this is a speed round, so answer these as fast as you can.
Coffee or tea, and how do you take it?
Tasha: Coffee- I take it black. 
Morning person or night owl?
Tasha: Both! I sleep only 5 hours per night, so I have 3 more hours in the day than everyone else!
Would you rather live your life with lobster claws instead hands, or a lobster tail instead of legs?
Tasha: I think lobster tail. It seems it might be better to give up my feet than my hands.
If you could make dinner for one person, living or dead, who would it be? What would you make them?
Tasha: It would be Albert Schweitzer. He built hospitals in Africa and did medical service work. And I'd make bouillabaisse- I love it!
What is a global issue or current event that is close to your heart? 
Tasha: The world should talk more. Not in a viral sense, but offline. A bit more humanity and humility would go such a long way. There is a whole world taking place outside and people need to help outside. We seem to just be ignoring the entire outside world by living in an entirely online world. We need more authenticity.
Do you have a favorite quote?
Tasha: I have two: "You have to always stay wild, cheeky, and wonderful," by Pippi Longstocking and, "I aspire to be wonderful to people, a bit cheeky to the world, and pretty wild," by Astrid Lindgren.
You can learn more about Tasha's fundraising foundation by clicking, here.