Loving People on Skid Row
My name is Olivia Rusk

from Fishers, IN. I am a 19 year old freshman at Ball State University, where I am majoring in Deaf Education. At the age of 18 months old I was diagnosed with Alopecia, which has resulted in me losing and regrowing my hair twice before the age of 8. The second time I lost my hair, I wore a wig for 5 months and then realized that I didn't want to hide myself from others; and I have been "naturally bald" ever since! I have a passion for helping people in whatever shape or form that comes in, and I plan to use that passion for the rest of my life! I aspire to travel the world and eventually own a husky with one blue eye and one brown eye, that'd be really nice!
---
The most eye-opening and exhausting experience I have ever encountered was passing out food and toiletries to the people on Skid Row in Los Angeles, California. Skid row is described as a run-down part of a town frequented by vagrants, alcoholics, and drug addicts. A place where people go when they hit rock bottom. One individual that lived on Skid Row told us that it was, "a place that people go to die." For as long as I can remember, I've always had a heart for helping others as well as a heart for the city of LA. Two summers ago I was able to visit the Dream Center in LA and it absolutely changed my life. The Dream Center is a massive facility that houses homeless families, missionaries, college students, and rehab participants. While I was there, my group had the opportunity to help pass out free and fresh produce to deserving local communities, pick up trash, help put together a children's church event, pass out toiletries and food on skid row, and was able to simply LOVE on the people of the city that has my heart.
 

 As we headed to our locations, we saw hundreds and hundreds of locals standing in line, longing to receive food for their families. What struck me the most was the language barriers, or lack thereof; most of the people that received the produce only spoke Spanish or Asian dialects. You would think that without being able to verbally communicate, the process would be very frustrating or confusing, but it wasn't. The hugs and tears we received after filling grocery carts that carried all of their belongings didn't require verbal communication. Their non-verbal gratitude was enough. We were warned that the people there would smell, but no warning could truly prepare us for the horrible smell that filled the air. These people were high, drunk, and had soiled their clothes from sweat or even going to the bathroom on themselves; they almost didn't seem human because of the way they acted. Our job there was to pass out food, toothbrushes, toothpaste, feminine products, deodorant, socks, and underwear. The people we encountered truly didn't have anything. Some individuals were speechless when they received all of the goods that we had brought, and with tears in their eyes the only words they could muster were, "God bless the Dream Center."
    One elderly woman in a wheelchair really melted my heart. It was a day in the beginning of June, in the hot-sunny city of LA, with not a cloud in the sky. After doing physical work of carrying heavy boxes, I began to sweat, and this lady took notice. I felt a tap on my shoulder and I turned around to her handing me the only thing she came with, a single paper towel. A little startled and confused, I tried to ask her what to do with it, but she only spoke Spanish. She then began tapping the paper towel on her own forehead, and then handed it to me, as if she wanted me to do the same. That paper towel was the entirety that this lady had, and she gave it to me; a complete stranger that couldn't communicate with her. We then left to deliver food to another location. I left overcome with sadness knowing that I would never see her again. Although we were there to serve such a broken community, the community in itself served us. As people that are all living this life together, selflessness and teamwork is exactly what we need from one another because that is how we are meant to live.

   

Going to the Dream Center of Los Angeles truly changed my life, and gave me a new perspective. People typically don't think that hunger and poverty can affect them, yet all of those people in LA were just people like you and me. This experience opened my eyes to the terrifying idea that that same thing could happen to me, which has allowed me to appreciate the things and people in my life a lot more, because at any moment they could be taken away. This is why I love HALF UNITED so much. They truly love and care for the people that are broken, hurting, and especially hungry. Their passion for other people is truly incredible and I am so honored to be apart of their mission!
-Olivia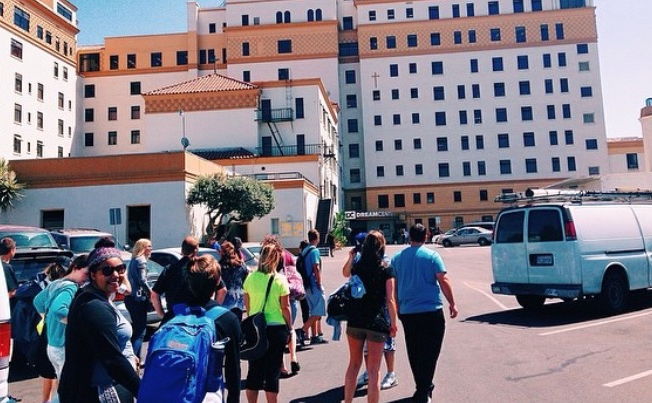 ---