Interview with HALF UNITED Co-Founder, Christian Black
My name is Christian Black, co-founder of HALF UNITED

. I founded HU with my sister in 2009 with around $200 and a deep desire to positively impact the lives of children in need. Our inspiration for HALF comes from our mom and dad. Growing up, our mom was an interior designer/restaurant owner and our father was a pastor and carpenter. We applied all of the experiences that come with growing up in a church, having a mother that lives-and-breathes fashion, and an entrepreneurial household to create HALF UNITED. 8 years of running a business has taught me a lot about myself, both good and bad, and has molded me into the man I am today. I am incredibly thankful for the support we receive everyday for our mission and I can't wait to see how HALF UNITED customers continue to change the world in the years to come.

HALF UNITED is all about fighting hunger with fashion. What is the story behind the brand? What made you want to start a give-back business?
Christian: Growing up, Carmin and I were raised by our father, who was a pastor and owned his own carpentry business, and our mother, who owned her own interior design business and restaurant. So we were constantly around people in need, the stresses of owning a business and good food. It was the perfect storm that moved HALF UNITED into motion. We started our own fashion business that helps people in need by providing them with food.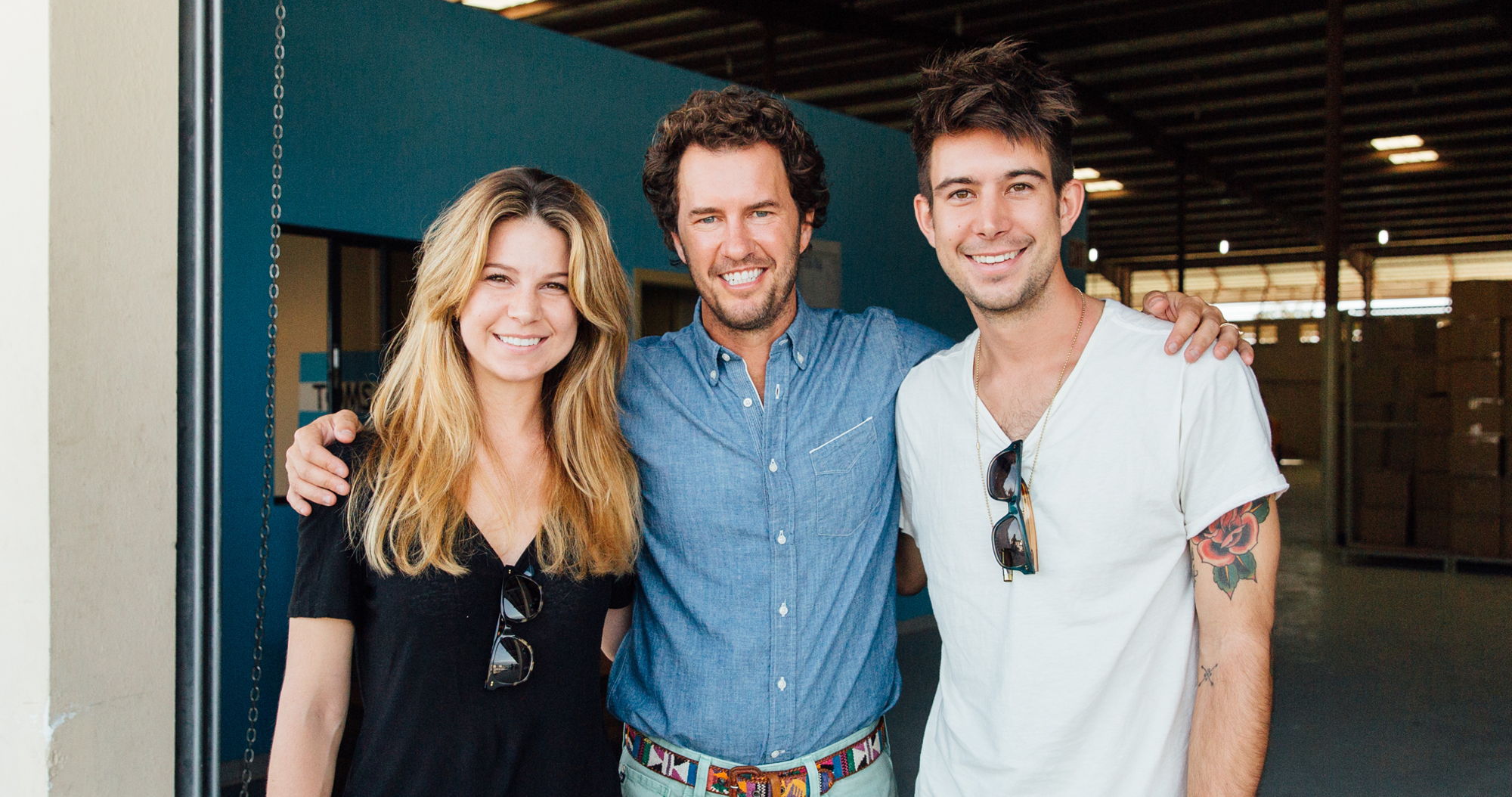 HALF UNITED Founders Carmin (left) + Christian Black (right), pictured with TOMS founder, Blake Mycoskie (middle).
How did you decide to go into business with your sister? What is that like? Is it ever challenging?
C: Initially, I never wanted to go into business with my older sister, mainly because she has always acted like my second mom. I started my own "business" my freshman year of college, a t-shirt line called 1989. Really the only things I ever had printed were a few designs for a band I played drums for at the time. At the same time this was happening, Carmin was working with TOMS Shoes as an intern, traveling the country, spreading the word about TOMS new give-back model. That experience inspired the idea for HALF UNITED. So she called me while she was on the road and convinced me to change my t-shirt company, 1989, into HALF UNITED, a jewelry and apparel brand that provided meals for children in need. I was immediately on board.
This is the most challenging part of my life. Haha! The thing about working with family is that you can be completely honest with each other, raw and vulnerable, to a fault. No feeling is hidden between us and sometimes it should be. We really try to pick our battles and be respectful of one another but sometimes we fail, and by sometimes I mean almost everyday. As we grow older and do this longer our battles have become less frequent but most days World War III is just around the corner. We have found that we really need to respect each other, especially in front of our employees and mentors, and stick up for one another. We call this having a "United Front." On the flip side of this partnership being so challenging it is also the most rewarding thing that we could have done. Carmin and I are fortunate that we get to be together everyday. We've been all over the U.S. and Haiti with each other and have really grown to be best friends. The truth is, at this stage of the game, this business cannot function without what she and I bring together and I wouldn't have it any other way.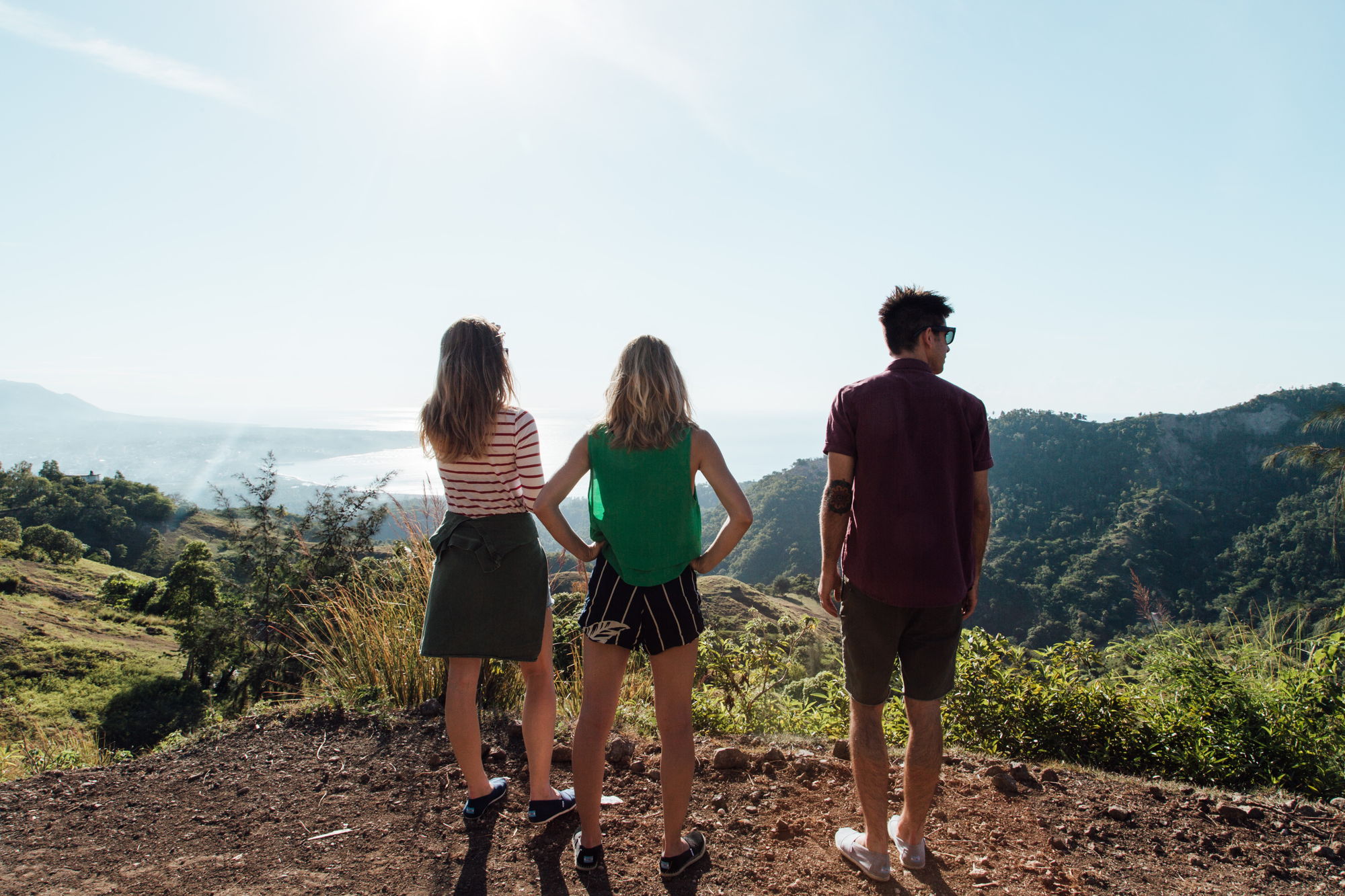 On a giving trip to Haiti with TOMS. Pictured here (from left to right) is Carmin Black, Reese Simmons (the designer behind TOMS' sunglasses), and Christian Black.
The fashion industry is notorious for its human rights abuses and environmental degradation. How have you balanced ethical production and high quality design, while still maintaining a competitive price point?
C: This is a challenge! People want to pay lower prices for products but for a company to pay it's people living wages and cover all of our bills and manufacturing, you have to be making money, real money. After all of our expenses and giving, our margins are so small that it has certainly forced us to consider having our jewelry manufactured over seas, at questionable facilities, but at a fraction of the cost. As tough as it has been, we have stuck to our guns and made it a point to keep the manufacturing of our jewelry in the USA, paying fair wages to hard-working Americans! We work with A&R Casting in Los Angeles, Aetna Inc. in Rhode Island, Garlan Chain in Mass and we do a lot of assembly here at our HQ in Wilmington, NC.
While HALF UNITED's main mission is to help fight world hunger, what other impacts can your customers expect to have when they purchase your clothing or accessories?
C: This is true! And thank you for bringing this up. For marketing sake, we have made our messaging as simple as possible but the truth is, our customers are doing far more than providing 7 meals for a child in need for every product they purchase. A lot of what we do has more long lasting, sustainable effect. In Fiji, we fund bee-keeping programs that provide Fijians with pollination for their gardens (that our customers also fund), honey and wax that they can harvest and sell, all while helping to grow and maintain the increasingly-important bee population. Since beginning this project, our partners in Fiji have multiplied our initial investment of 5 Honeybee farms into over 250 farms! In the U.S., along with volunteering for and donating to the Food Bank, we are working with local chefs to provide healthy and delicious weekend meals for an all girls charter school in Wilmington, NC. In Haiti we fund the construction of bread ovens along with providing fresh grain to bake fresh bread for school children and villages. This initiative is teaching Haitians a new trade that they can utilize to boost their local economies.
Hunger and malnutrition have pervasive effects on an individual's ability to grow and thrive. With so many opportunities to give back, why were you inspired to contribute to the fight against hunger?
C: Simply put, we love food and the thought of a child not having enough to eat is heart-breaking. Statistics aside, no one likes being hungry. We've all been there and know what being hungry feels like. Our goal is to take that burden away from children who, almost always, have no control over their situation.
The idea of brands giving back is becoming increasingly popular. What advice would you have for other entrepreneurs who are hoping to one day start their own give back company?
C: Helping people in need using traditional business is such a cool idea and something that business owners of any kind can do. My advice for anyone looking to start their own brand that does good is to first and foremost understand how a business is run. Do your research on how to manage finances, how to manage people, the importance of good branding and a good website... Just all the ins-and-outs of business ownership (things that Carmin and I had to learn the hard way). Beyond that, in whatever way you want to change the world, make sure that you are extremely passionate about it. Make it something that you will not give up on, no matter how challenging things become. For us, hunger is something that we are reminded of 3 times a day and it drives us to do everything that we can to feed children in need, no matter how many times we feel like giving up.
Great! And lastly, do you have any parting "words of wisdom" to pass along to people who want to do their HALF in their day-to-day lives?
C: Doing your HALF is as easy as smiling, or saying hello to someone on the street. I find that when you simply acknowledge someone, it can turn their day around. It fills them with joy and in turn fills you with joy. Doing your HALF means going out of your way to improve someone's life, if even for a moment.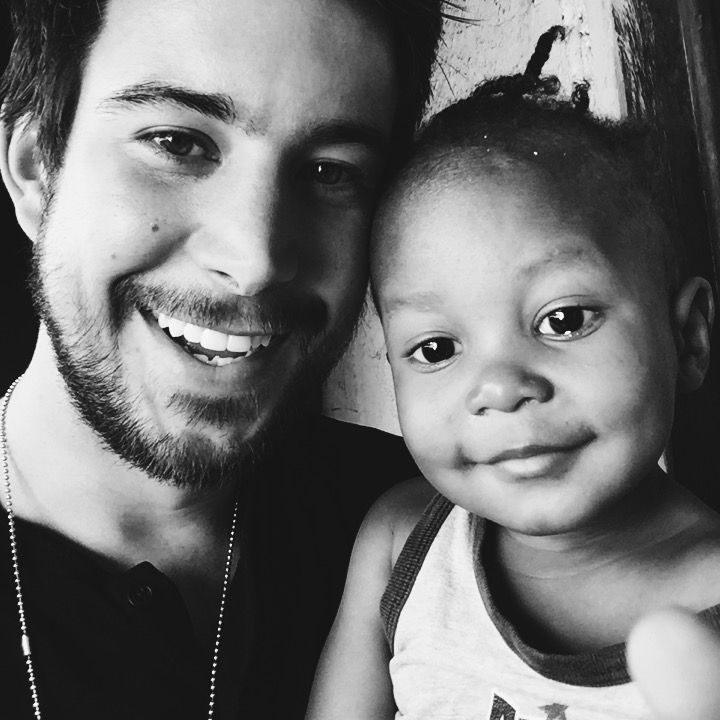 Christian Black with one of the local Haitian children that HALF UNITED helps to feed.